Guest Chef at the Hidden Valley Bed and Breakfast
There is a guest chef working at Hidden Valley Bed & Breakfast for the summer! Meet Scott, a chef with a bend toward the creative and unusual food pairings!
As always, your breakfast will be delicious and hearty, and you'll leave the table satisfied and happy.  The first course (pictured below) is a Pina Colada salad with banana bread.  The Pina Colada salad is pure fruit with no added sugars.  It is great – it tastes like a tropical drink!
Scott's specialty is creating dishes with no processed sugars or extra flour (outside of toast). His meals are healthy yet delicious. Come visit us and taste some of Scott's creations.
Here is another one of Scott's creative egg dishes.  This one is called "Garden Sunshine Toast". It's an egg inside of toast, with organic basil, chives and cheese. We always use the fresh herbs from the Hidden Valley B&B garden.
Here are the steps in preparing this egg dish.
Step 2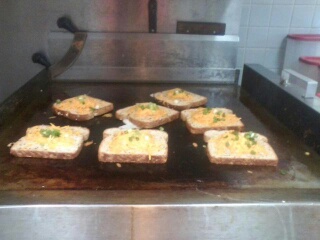 Ready to serve.
Oh so tasty! Decorative and very yummy.  Hope to see you soon.
Eva